Recent Happenings
May 5, 2017 Giving Back to the Future Gala!
The clocks stopped as the Houston transplant community and its supporters were transported through time during the 2017 Nora's Home "Giving Back to the Future" Gala on Friday, May 5, 2017 at the Royal Sonesta Houston Hotel. The annual gala honored Lynda Underwood and her late husband, David. As Chairman of the Texas Medical Center Board of Directors for decades, David gave back to future generations through his charitable and collaborative work. The philanthropic couple was honored for their past contributions that continue to support the Houston community into the future. Master of Ceremonies, Lisa Malosky, welcomed more than 650 guests that helped to raise over $700,000 in total!
The evening began with a cocktail reception where guests placed their bets in the casino room or hit the dance floor to enjoy a DJ spinning hits from the '80s. Freddy Cruz from 104.1 KRBE-Houston kicked off the night's philanthropic efforts by opening bids for the big board auction items. Guests were also given the chance to live out their Back to the Future dreams by entering a raffle for a chance to win a stainless steel 1981 DeLorean. A lucky winner named Shane Duckworth with the Oklahoma Storm Chasers claimed the prized DeLorean.
Gala chairs, Dr. Sippi and Mr. Ajay Khurana recognized and thanked the Nora's Home staff, Brigitte and Bashar Kalai for introducing them to the organization, and founders Dr. Osama and Lillian Gaber for welcoming them to the Nora's Home family.
The Khuranas also recognized the gala's honorary chair, Margaret Alkek Williams, for her commitment to philanthropy through the Albert and Margaret Alkek Foundation. Williams was acknowledged for the continuation of the legacy of giving established by her parents and was given a standing ovation by the audience. The Texas Medical Center's new President and Chief Executive Officer, Bill McKeon took the stage to speak on Lynda Underwood and her late husband, David's involvement in innovation that continues to benefit Houstonians today. McKeon shared his experiences working with David and how important spouses are to successful partners, especially those like Lynda who always stayed by David's side. The audience also gave Lynda a standing ovation after she gave a moving speech about the necessity of providing care for those undergoing transplant treatments and what a gift it is to have Nora's Home in the Texas Medical Center.
The audience was brought back to 2017 for a futuristic live performance by iLuminate, a combination of state-of-the-art technology with electrifying entertainers creating the ultimate in the dark performing arts experience. iLuminate was called the "best new act in America" during its run on America's Got Talent in 2011. iLuminate's patented technology has been used in numerous performances by Grammy-winning superstars, on hit primetime television shows and various events across the globe. The performance consisted of a fusion of technology and dancers in electrified glow-in-the-dark suits performing dynamic routines and illusions on a darkened stage.
Friday's gala was supported by many individuals, community partners and generous underwriters. A BIG THANK YOU to all our supporters!!!!
October 23, 2015
2nd Annual Nora's Home Golf Classic Presented by Satterfield & Pontikes Construction, Inc.
We had a great turnout for the 2nd Annual Nora's Home Golf Classic held at Hermann Park Golf Course. With the support of our sponsors and 120 players, over $60,000 was raised in benefit of our Adopt-A-Family program! Special Thanks to our tournament sponsors:
Satterfield & Pontikes Construction, Inc.
CHI St. Luke's Health
K-2 Services
Sprint Waste Services, L.P.
Duty Construction, Inc.
Memorial Hermann TMC
Hart Plumbing
Gulf Coast Pavers, Inc.
L.G. Electrical Services
Alexander Portraits
Karbach Brewery
North Italia
May 1st, 2015
Spotlight on Nora's Home Gala
Lights, camera, action! Nora's Home spent time in the limelight and took center stage at their annual gala, "Spotlight on Nora's Home," Friday, May 1. The fundraising performance was presented and sponsored by the John L. Hern Foundation, the Ramming Family Partnership and the Linda and Jerry Strickland Family Foundation, and held at the famed Hilton Americas-Houston. Guests clad in show stopping attire were greeted by a cocktail reception featuring a silent auction, lyrical and hip-hop dance routines from Sierra Beeching, liver transplant recipient and daughter of chairs Lisa and Rudy Beeching, and a performance from Houston's Orchestra on Call. After mixing and mingling over a drink or two and watching Taft McWhorter paint artwork to be auctioned later in the evening, attendees were seated for dinner. The culinary presentation was emceed by Robert Boudwin aka "Clutch" and complete with entertainment by The Three Waiters and the Willowridge Marching Band. A live auction followed, which helped contribute to raising over $500,000 for the evening. All proceeds benefited the Adopt-A-Family program, which helps offset the financial strain put on transplant patients and their families. Clutch "The Rockets Bear" made a special cameo at the end of the award-winning evening that had everyone saying, "That's a wrap!"
March
6, 2015
Lighting the Way for Transplant Patients with the Help of the Indian Community dinner in benefit of Nora's Home. With the help of 250 attendees, $100,000 was raised to support our mission! Special thanks to our friends at Fusion Hospitality, Jay and Reena Patel, along with Choice Hotels International, Athena Companies, India House, and TV Asia.
Sept
ember 9, 2014
The 2014 Inaugural Nora's Home Golf Classic sponsored by Satterfield and Pontikes, was held at Sweet Water Country Club in Sugar Land.
July 11-15, 2014
Houston hosted the 2014 Transplant Games of America. The games took place at the George R. Brown Convention Center, BBVA Compass Stadium, and various other facilities throught the city.
January 10, 2014
| | |
| --- | --- |
| The Smith Family hosted a basketball fundraising event for Nora's Home at Sterling High School in Baytown, Texas. Thank you to the Smith Family and to the Sterling Rangers for your support! | |
| | |
| --- | --- |
| | December 4, 2013 |
| | |
| --- | --- |
| | Employees from Wyndham Hotel & Suites brought holiday cheer to Nora's Home. Holiday decorations were set up and the kitchen was cleaned and organized. Thank you Wyndham for your support. |
| | |
| --- | --- |
| | November 2, 2013 |
| | |
| --- | --- |
| | Furniture was moved in, beds were made, cozy blankets were sewn, sunflowers were planted and the pantry was stocked. Thank you to the great volunteers from St. John's School! We appreciate their hard work on our "Almost Home" volunteer day. |
| | |
| --- | --- |
| | July 2013 |
The flag will travel across the country to participating teams!
| | |
| --- | --- |
| | May 3, 2013 |
Our 2013 Gala was a success thanks to our participants and contributors!
| | |
| --- | --- |
| | April 21, 2013 |
On April 21, 2013 Executive Director Kayla Lehmann threw the first pitch at the Houston Astros vs. Cleveland Indians game in honor of Donate Life month!
| | |
| --- | --- |
| | February 27, 2013 |
The Houstonian Club hosted a lecture and luncheon series presented by Dr. Osama Gaber on "Breakthroughs in Transplantation". The educational seminar focused on the detrimental effects diabetes has on the liver and the innovative research being developed to combat the disease and it's effects on the body.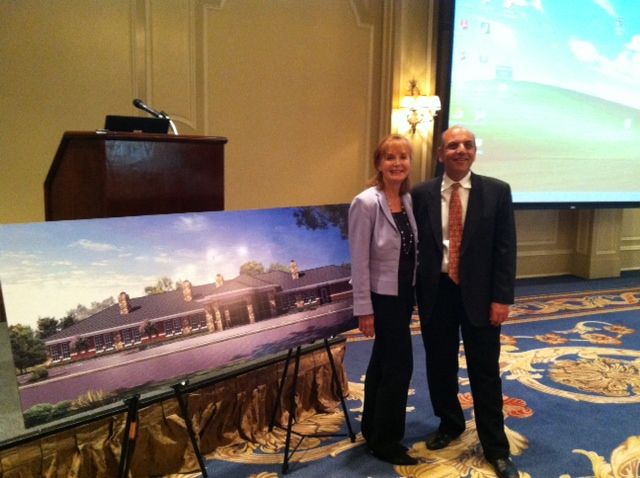 | | |
| --- | --- |
| | February 22, 2013 |
CBRE hosted a Texan Day barbecue luncheon in the Wells Fargo building downtown benefitting Nora's Home. With the help of hungry employees, CBRE raised $2, 171.20.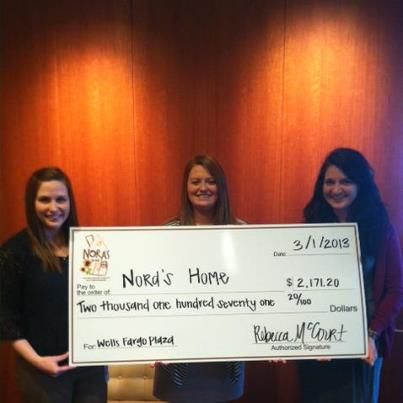 | | |
| --- | --- |
| | February 16, 2013 |
Dwayne Wade of the Miami Heat hosted his "All-Star Luncheon" benefiting local Houston charities

for the sixth year in a row on Saturday February 16. Executive Director Kayla Lehmann met numerous basketball stars, including Yao Ming.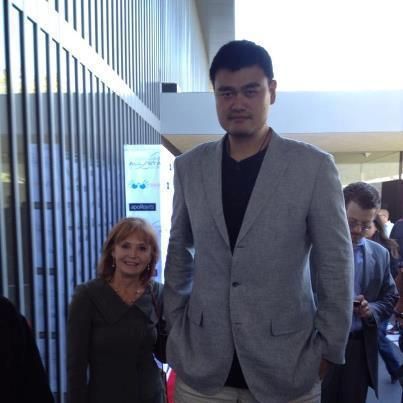 | | |
| --- | --- |
| | February 7, 2013 |
Nora's Home welcomed Dr. Robert Robbins to Houston as the new president and CEO of the Texas Medical Center at the home of Linda and Steve Webster. Walter Pye of Pinto Ranch made the welcome complete with a Texas necessity- a cowboy hat.
| | |
| --- | --- |
| | December 22, 2012 |
Zadok Jewelers hosted a book signing for Elizabeth Stone, Founder and Owner of The Stone Kitchen, titled "An Invitation to Entertain: Recipes for Gracious Parties".

A portion of her book proceeds was donated to Nora's Home.
| | |
| --- | --- |
| | December 19, 2012 |
Thanks to the successful bid submitted by the Harris County-Houston Sports Authority the 2014 Transplant Games of America will be in Houston, Texas!

Bill Ryan, President and CEO of the Transplant Games of America, passed the torch to Mayor Annise Parker. This event will help raise awareness on the importance of organ and tissue donations as well as the need for a "Home Away From Home" for transplant patients and their families.
| | |
| --- | --- |
| | November 28, 2012 |
In honor of their 36th anniversary Zadok Jewelers hosted a carnival themed cocktail party featuring a gemstone cake sale and raffle benefiting Nora's Home.

Zadok's helped raise over $4,000 for Nora's Home. It is an honor to have the Zadok family join our team. Pictured below: Helene Zadok, Lisa Zadok, Amy Zadok and Elain Schuster
| | |
| --- | --- |
| | October 29, 2012 |
Nora's Home celebrated their Groundbreaking on 8300 El Rio St near the Texas Medical Center.

The 3 acres will be the site for the first hospitality home for transplant patients and their families in the Gulf Coast region. Nora's Home plans to open their doors to the public Summer 2013.
| | |
| --- | --- |
| | October 20, 2012 |
In honor of his 50th Birthday, Billy Stewart hosted a fundraiser at the Crooked Ferret in Houston in honor of Nora's Home. Billy asked friends and family to donate to Nora's Home in lieu of buying him a gift. With perfect weather, live music from Billy's band Shadow of the Cross, and a silent auction, fun was had by all. Billy helped raise over $5,000 for Nora's Home.
| | |
| --- | --- |
| | August 6, 2012 |
Nora's Home Executive Director, Kayla Lehmann, met with Laura Frnka-Davis, Director of Communications at LifeGift, to discuss a partnership as a Workplace Partner.

Sponsored by the U.S. Department of Health & Human Services and the transplant community, the Workplace Partnership for Life campaign aims to enroll employers to become partners in supporting and promoting organ, tissue, marrow and blood donation within their workplaces.